8 fonts deriving from ethnic and esoteric symbols

Fontikon: 8 fonts deriving from ethnic and esoteric symbols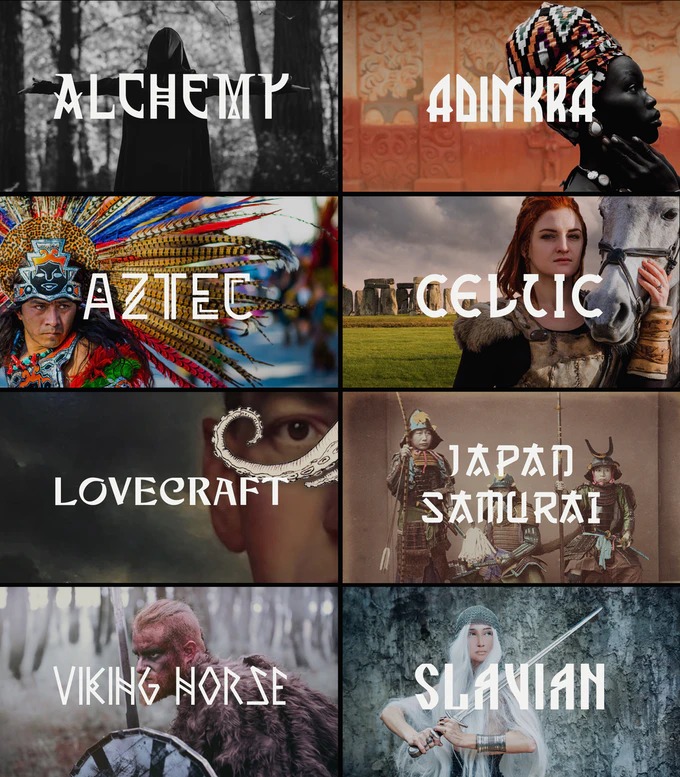 Looking for some cool, fresh fonts to add spice to a project? Check out Fontikon.
Fontikon is a Worldwide Type Foundry of Ethno-Esoteric-Mystic-Magical fonts for creatives, graphic designers and game designers. It contains a set of 8 ancient fonts from historical cultures and civilizations around the world, designed in modern style. 
Starting from medieval manuscripts, textile or architectural decorations and ancient writing systems, the designer created Fontikon, a project that for now consists of eight fonts for as many ethnic-esoteric inspirations: alchemy (Alchemy), the Ashanti pre-colonial African empire (Adinkra), the Aztec empire (Aztec), Celtic culture (Celtic), the narrative universe of Lovecraft (Lovecraftian), ancient Japan (Japan Samurai), the Viking civilization (Viking Norse) and the very first forms of Cyrillic writing (Slavian).
Where the idea comes from?
The idea of making a set of fonts comes from my previous Kickstarter project Symbolikon Digital Encyclopedia (link) a collection of symbols taken from historical, global civilizations. I investigated more than 25 ancient cultures around the world: from Messico to New Zealand and for each one I created a set of symbols.
The Specimens
Each font family in the Fontikon library has been meticulously researched and designed in a contemporary and modern style intended for use in displays, posters, RPGS, Web. Every font family contains uppercase, lowercase, numbers, special characters [full support for Latin 1 Standard 300 glyphs] and comes with a set of symbols [as font] of each specific culture. 
The Fontikon collection is a package of 8 different typewriting fonts with related symbology, every font has two families one for the typeset and the other for the symbols. Each font will be available in TTF – OTF [print&design] WOFF – WOFF2 [web]