A Secret Universe in Your Desk Drawer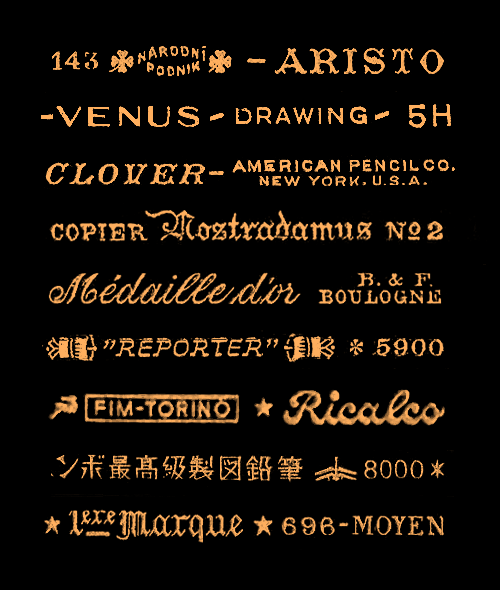 My weapon of choice is a Pilot Precise rollerball, but I keep a General's Sketching Pencil below my monitor. I don't write with it: it's not sharpened; it's there because I admire its typography, which in less than four inches goes from italic small capitals to a cheery script, to a pair of unrelated sans serifs in two different sizes. It is eclecticism incarnate, and it's got a lot of heart.
Once you start to notice their markings, pencils draw you into a beguiling world of exotic lettering. With color unavailable to their designers — absurdly, the color of a pencil either definitely indicates the color of its lead, or is completely arbitrary — pencils have historically expressed their identities through playful typography. The range of information they need to convey (manufacturer, product name, grading and classification, place of origin) calls for a self-contained system of semantic distinctions, and the unforgiving process by which tiny letters must be hot stamped into soft pine demands durable letterforms of considerable ingenuity. These conditions recall the challenges of designing newspaper text faces, which must first and foremost be legible. But where expressiveness trumps clarity, things get interesting.
Bob Truby's Brand Name Pencils offers an inviting tour of his collection, complete with closeups of each and every specimen. The brief sampling above already reveals more kinds of script, blackletter and tuscan than can even be categorized, and these are among the collection's more conservative members. Check out the Dixon Aerial 2280 No. 2, whose logotype might be classified as "open Lombardic capitals with terminal lightning bolts." Definitely not a species you see every day. —JH