Change We Somehow Can't Quite Believe In, Though We Just Can't Put Our Finger On It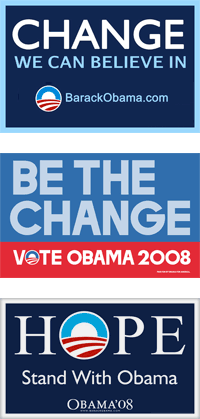 Every four years, the month of November tenders an exciting opportunity for financial speculation, this year offering an almost practical alternative to your lending institution of choice (still solvent as of presstime) or your flameproof mattress. Behold the high-stakes world of political memorabilia, now doing brisk business on the internet.
To my surprise and delight, this year's "process pieces" about the election included dozens of articles about the Obama campaign's exceptional graphic design standards, none of which failed to mention Gotham, the campaign's official typeface. Obviously not every piece of Obama paraphernalia featured the font — organizations unaffiliated with the campaign certainly produced their share of ad hoc design, and this was a candidate who attracted a tremendous number of independent enthusiasts — but the typography employed by the campaign itself was remarkably consistent, which is what made it newsworthy.
A search for "Obama" on eBay yields more than twenty thousand items, including these three pieces of questionable Obama memorabilia (Fauxbamarabilia?), none of which features the campaign's signature typeface. First and last are rally signs set in Gill Sans, which is close to Gotham, but no cigar. At the top it's paired with Lucida, at the bottom with Times Roman; let me suggest to anyone interested in counterfeiting printed ephemera that you look a little further than the fonts that came with your computer. The middle one has a certain primitivist charm that suggests the work of a cheerful amateur, but the legend "Paid for by Obama for America" marks it as a likely fraud: if it's not, it's the only piece of American political printing I've ever seen that doesn't also include a union bug.
Anyway, if you're hunting for genuine souvenirs, try the campaigns themselves. Both the Obama and McCain organizations are still unloading their extras. —JH