"Curved, Pointy, and Nervous-Looking Types"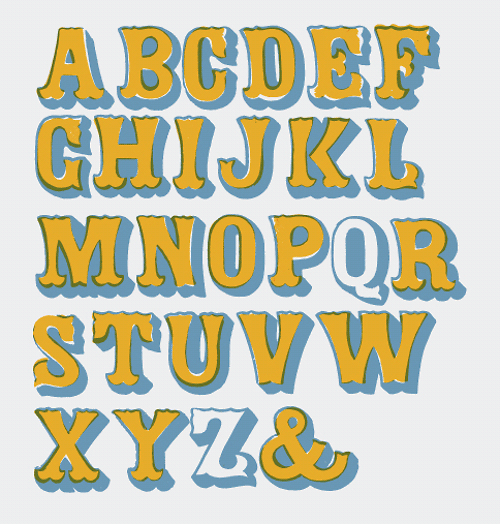 It is 1953, and you are a graduate student at the Yale University School of Art. Alvin Eisenman has just established a new discipline called "graphic arts," in which you are studying — under the legendary Josef Albers, Herbert Matter, and Alvin Lustig — a new approach to design, which will come to be known as Modernism. Five years from now, the world will witness the birth of Helvetica and Univers, typographic milestones that will forever affirm the ascendancy of the Swiss International Style. It is amidst this visual culture, with its disciplined sans serifs, rationalized grid systems, and asymmetric layouts, that you discover your deep love of typography. So you dedicate yourself to the study of its most unfashionable, shadowy, and anarchic tributary: nineteenth century American wood type. You are Rob Roy Kelly.
Today, Kelly's name is synonymous with American Wood Type: 1828-1900, his 1969 opus that remains the standard desk reference on the subject. Forty years ago, the manuscript was the result of a long and difficult search for answers. After leaving Yale, Kelly went to the Minneapolis School of Art to establish a graphic design department, and his attempt to procure a collection of material for the school press revealed at once how moribund wood type had become, and how neglected it remained as an area of study. Beginning with a collection of ephemeral type specimen books, and ultimately growing to include several hundred full fonts of type, what quickly became "The Kelly Collection" served as a working library for Kelly's own research. Between 1966 and 1993, the collection passed through the hands of several individuals and institutions, finally finding a home at the University of Texas at Austin. During this time, Van Nostrand Reinhold's publication of American Wood Type went out of print; Da Capo Press introduced a paperback version, which also went out of print; what designers and scholars have been left with is the diluted and incomplete 100 Wood Type Alphabets produced by Dover Editions in 1977. Happily, the University of Texas has adapted the original work for the web: The Rob Roy Kelly American Wood Type Collection is now available online, featuring much of Kelly's scholarship, and many of the illustrations from the original work.
In keeping with the traditions of the trade, Kelly's enthusiasm for wood type was obsessive. Chronicling his work on American Wood Type in the book's introduction, Kelly wrote, "my reputation as a bore at cocktail parties grew immeasurably during these years," a sentiment doubtless familiar to anyone connected with type. Like many enthusiasts, Kelly's devotion to typography was deep, sincere, and consuming, but it was also mercurial. In 1990, when I went to the Modernism & Eclecticism symposium to hear Kelly deliver a lecture entitled "Cast-Iron and Brass Trivets," I learned along with hundreds of other graphic designers in the audience that "trivet" was not an obscure term of art from the golden age of wood type: Kelly had concluded his study of wood type, and had simply moved on to another area of scholarship, namely cast-iron kettle stands. Somewhere, I hope there is a blog devoted to trivets that will include the opposite anecdote, the story of the eminent trivetologist who was once, bewilderingly, a leading authority on wood type. I suspect Kelly would love it. —JH