Reconstructing Harry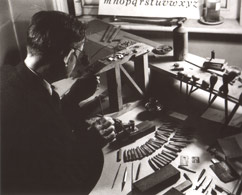 One of the best things about the type community is the way in which attitudes seem to transcend its generations. It's heartening to be at a professional event, and see that the exciting new idea that's being embraced by art school undergrads is also received with equal enthusiasm by, say, Max Kisman, Wim Crouwel, and Adrian Frutiger. But I've experienced one clear division in typography that's drawn along generational lines, and it's this: typophiles above a certain age know the type historian Harry Carter, and his son who's also involved in type; and those below that age know the distinguished type designer Matthew Carter, and perhaps also that his dad was in the business. A recent book points out what woefully insufficient descriptions these are.
I'm of the younger camp, and therefore knew Matthew Carter and his work long before I began to notice the name "Harry Carter" appearing with any regularity on my bookshelves. I first encountered Harry's name on A View of Early Typography Up To About 1600, a small book that collects the series of insightful lectures he delivered at Oxford University in 1968. (The original edition is hard to come by, having been pulped nearly in its entirety thanks to some inventory mishap, but Hyphen Press has recently reissued it in paperback, with notes and an introduction by James Mosley. It is very much worth having.)
Last weekend I read Harry Carter, Typographer, a new appreciation by Martyn Thomas, John Lane, and Anne Rogers (The Old School Press, 2005.) I'll admit that I was struck first by the puerile thrill of seeing Matthew Carter, the standard-bearer for typeface design, recorded in two childhood photographs showing him in short pants (pp. 17, 26), but I'm happy to have returned to the text in earnest. It's an illuminating profile of a genuine polymath: typefounding has long attracted people with diverse but converging interests, though Harry's were unusually well-explored professionally. He worked as a translator, a book designer, an archivist, a designer of patterned papers, a punchcutter, and a graphic designer in His Majesty's Stationery Office, while widely contributing typographical oddments that include lettering for the London buses and the BBC. This work was in addition to (or in support of) his greatest legacy, a collection of writings about typography that reflect his first-hand knowledge of the crafts of typefounding and printing. Harry Carter's most widely-quoted aphorism, "type is something that you can pick up and hold in your hand," is a useful reminder that type is not an abstraction but a thing; recognizing that this is the observation of a punchcutter, a compositor, a designer, and a historian gives these words a special potency, and a unique richness.
For a man I know so little about, it's striking to see how often Harry Carter's name appears on the pages of this site. It's in the description of our Civilité font, which was made possible by one of his books, and again in connection with the Fell Types, about which he wrote the definitive work in 1970 (though credited as a mere contributor.) Our recreation of the oldest living textura was researched in two of typography's masterworks, and I see now that Harry Carter was a major force behind both: H. D. L. Vervliet's Sixteenth Century Printing Types of the Low Countries records a busy period of scholarship at the Plantin-Moretus Museum (Antwerp) which was largely Harry Carter's project, and the monumental Typefoundries in the Netherlands, all 477 pages of which Carter revised, annotated, and translated from Dutch, might never have come to pass without his energies. Even the historical backstory on the Hoefler Titling page, regarding the true history of the "Janson" typefaces, states its observations as known facts: today they are, but first they were Harry's. —JH