The Evolution of Tech Logos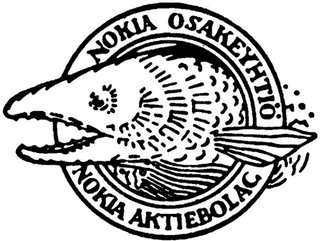 It took a visit to Finland in 1996 to realize that Nokia the cellphone company and Nokia the tire company were one and the same. Apparently these are merely the latest stops on a very long journey: Nokia was founded in 1865 as a wood-pulp mill, on a channel of rapids between two Finnish lakes, all of which goes to explain why the company's original logo was this slightly alarmed salmon.
Neatorama is running a very entertaining look at the evolution of tech companies' logos, which includes such well-known corkers as IBM's grand typographic globe, and the short-lived Apple logo (that still makes me hear strains of "Carry On My Wayward Son.") Less publicized, with good reason, is the original Canon logo — née Kwanon — which had all the worldly sophistication of a Charlie Chan movie. I'm gravely concerned for the Motorola logo, though: it's memorable, distinctive, and typographically lovely; there's absolutely nothing wrong with it, which means it's probably next in line for the ax. (Xerox, I'm looking at you.) So I'm adding this one to the H&Co Endangered Logo Watchlist, and offering 3:2 odds on a tragic redesign before the decade's out. —JH.