These Aren't The Fifty States You're Looking For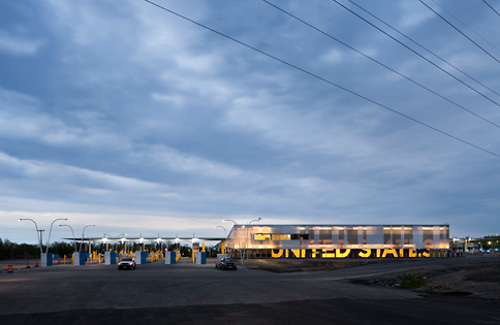 In Fast Company, Ellen Lupton writes:
The graphic designer Michael Bierut, a partner working in the New York office of the firm Pentagram, designed a 21-foot sign for the new U.S.-Canada border crossing at Massena, New York. The sign, as well as the building, which was designed by architects Smith-Miller & Hawkinson, has received substantial praise as a bold and daring piece of federal design. Too daring, perhaps. The sign is being dismantled by the Customs and Border Protection Agency for fear that it will be a target for terrorists.
I share Michael Bierut's hesitation in second-guessing the seasoned professionals at the Department of Homeland Security, who surely know more about armed extremists than I would ever want to. Still, I think there's a compromise to be struck: if the goal is to create a typographic fig leaf that disguises one's arrival at our 9,161,923 square kilometer nation, why not change the inscription to "Bienvenidos a México?" —JH