Typography Without Ink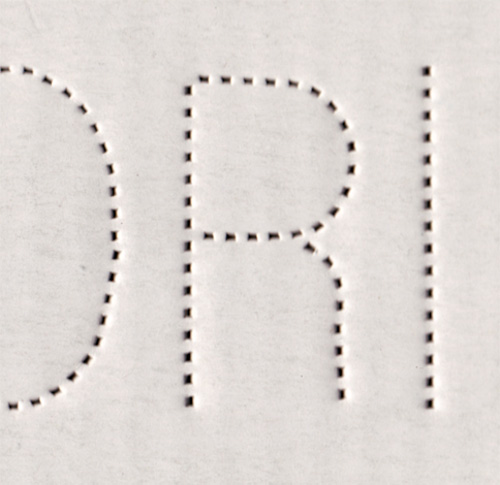 This weekend, I replaced a DVD player that finally conked out after eleven years. Whatever delight I once took in acquiring a new piece of electronics has long been eclipsed by the responsibilities of dealing with its byproducts: its packaging, thankfully limited to recyclable cardboard and biodegradable packing peanuts, and also the carcass of the old device itself, which this year a local equipment recycler will be disassembling and recycling as responsibly as possible. Even the best process is not a perfect one, as industrial designers and packaging designers will be the first to admit, but every little bit helps.

The supplied accessories came in this cardboard box, which made me smile. Rather than print the cardboard before it's cut and folded, whoever was responsible for this piece of packaging realized that the die-cutting step offered a no-cost opportunity to mark the sheet at the same time, by shaping the strikeline into letters that partially perforate the box. That I'm charmed by this solution probably comes as no surprise, since I have an admitted love of perforated letterforms, but I admire any effort that makes design more honest, easier to produce, and less wasteful to consume.

Because cutting dies can't be curled too tightly, the medium demands big letters and brief messages, which I especially appreciate. Missing from this box is all the bumf to which we've become accustomed, but never needed in the first place: a reprise of the manufacturer's name and motto from the outer box, a fuzzy rendering of the product that by now is on the coffee table, a wordy title like ETS1041E-ACC Supplied Accessory Parts Kit (US/120V), a list of serial numbers for other compatible components that you didn't choose to buy, and finally a numbing set of bullet points that patiently explains in eight languages what you already know, which is that the box contains the power cord, a remote, and two AA batteries. "Accessories" says it all, and is a welcome relief to anyone now facing an evening of plugging it all in. —JH